Another little local difficulty
After the Solomonic Solution which rewarded a Japanese gymnast who fell so very nicely, we have the ticklish question of 'making a bone fide effort' while participating, which led to the disqualification of some badminton players earlier in the Games.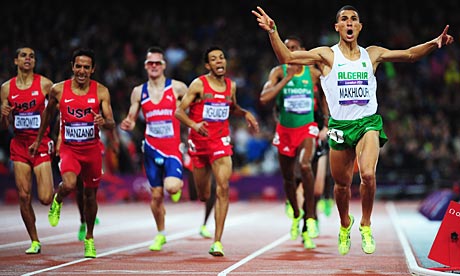 An Algerian runner, Taoufik Makhloufi, dropped out after the first bend of the 800 m. showing no sign of injury (he didn't limp/ shout/hold/rub/grimace/writhe) but displayed only a distinct lack of interest. He was duly disqualified from taking further part in the Games. Later he claimed a medic had confirmed he had a knee problem and he was reinstated. The next day he had 'recovered' sufficiently to win the gold medal in the 1500 m. at a canter.
Should he be allowed to keep his medal? I don't think so. On the other hand, who can prove that the man did or didn't suffer sudden pain in his knee and wished to save himself for the 1500 m final? Would somebody please give King solomon a call?